Feel Free

To Speak To Us

If you are interested in discussing anything further or simply want some additional information or material, please just give us a call or, request a call back at a time that suits you.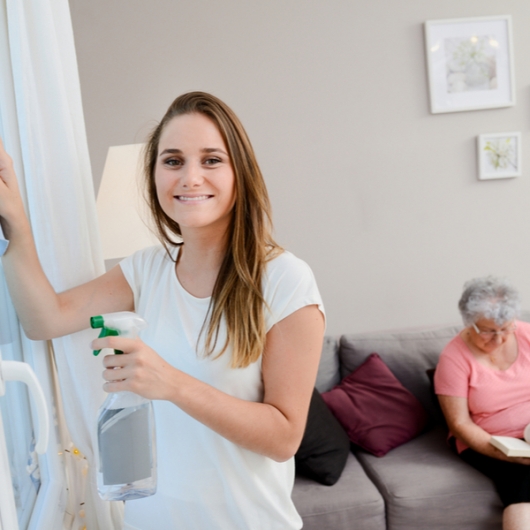 Why QAADS
QAADS is a not for profit charity, located in Upper Mount Gravatt. We provide a range of services specifically aimed at assisting older people, people with a disability, or carers and families living in South East Queensland
Our organisation's commitment is to work directly with you and other older people, people with disabilities and carers and families, to provide a range of quality services which will enhance your well-being and better enable you to live a full and independent life.
We are a Government approved provider of Home Care Packages, Commonwealth Home Support Program and Home Assist Secure services and are able to assist you with any of your age or disability related support needs.
Frequently

Asked Questions
What aged care services are offered?
Whether it's a little help around the home or an in home nurse you require, QAADS is able to provide support occasionally, or as often as you would like.  We have caring, professional staff that can assist with housework, gardening, shopping, cooking, personal care such as bathing and toileting, support to participate in your favourite activities, assistance to access allied health professionals and nursing services in your home.  Our aim is to help you stay independently in your own home for as long as possible, providing the services and equipment to ensure you can.
What is the difference between home care, retirement living and residential care?
Home care is for when you are still independent and living at home but need a helping hand now and then; it's designed to help older people remain at home for as long as possible. Retirement living is ideal if you want to be free of home maintenance (including lawns and gardens) but are keen to preserve your freedom and independence. Residential aged care is for people no longer able to live at home for reasons including illness, disability, bereavement, medical emergency or being unable to manage at home without help.
What is a Home Care Package
A Home Care Package (HCP) is funding provided for older Australians through a government-subsidised program with the aim of providing long-term support to continue living independently at home.
There are four levels of Home Care Packages, each with a different level of funding. Level 1 is the lowest amount of funding and Level 4 is the highest that an individual can receive. Level 1 is currently around $8,000 per year and Level 4 is over $50,000 per year.
The level assigned to you will depend on an assessment based on your physical and cognitive needs and how extensive they are. Funding from your Home Care Package can be used to buy hours of care or other support services which suits your needs and supports you to remain living independently at home.
Once you have a Home Care Package it is yours to keep, to allow you to remain living in your own home.  Home Care Package funds aren't paid to you directly. Instead, you must choose an approved Home Care Package Provider to administer the funds on your behalf and support you with your care management.
What is the Commonwealth Home Support Program?
While similar to the Home Care Package Program, the Commonwealth Home Support Program (CHSP) is an entirely different government program that also has the goal of supporting older Australians who require assistance to remain living at home. The program is different in that rather than a set amount of funding given to you every year, you are instead able to access services at a reduced hourly rate. 
Many people are on the CHSP while waiting to be assigned a Home Care Package. Once you accept your Home Care Package you will be required to finish up your Commonwealth Home Support Program services.
But don't dismay, if there is a specific service you really enjoyed from the Commonwealth Home Support Program, you will be able to find a replacement service to fund directly from your Home Care Package.
How do I apply for a Home Care Package?
As a starting point, if you're relatively healthy and active but think you might just need a little help with daily tasks such as cleaning, shopping, washing and ironing; then you should begin by having a Regional Assessment Service (RAS) Assessment.
This assessment allows access to the Commonwealth Home Support Programme (CHSP) which has the aim of helping older people live as independently as possible, by focusing on their needs and preferences and building on their strengths. By doing this, the program assists people to remain living independently and safely in their own home.
You can register for a RAS assessment on the My Aged Care Website - myagedcare.gov.au or complete an online assessment here.
If you consider you need help that is a little more formal such as managing medication or aids and equipment, you will need to start with an Assessment from an Aged Care Assessment Team (ACAT) by calling My Aged Care on 1800 200 422.
Once you've had this assessment and have been recommended for a Home Care Package you will join the Government waitlist to be assigned a package. This part of the process is called the Home Care National Prioritisation Queue.
Can I change providers?
You can call us on 1300 072 237 and one of our friendly and experienced team will discuss your situation with you and help decide if the move is the right decision for you.
If you decide to transfer your package to QAADS, you will need to call My Aged Care on 1800 200 422 and ask for your Referral Code to be reactivated. It's a simple process. We need your referral code in order to access your documents to ensure the sign up is as efficient as possible.
We will then make a time to complete a thorough assessment with you get the necessary transfer and sign-up documents completed so we can commence your care services and ensure a seamless transition.  Behind the scenes we will speak to your current provider and organise the date for transfer of your funds to make sure there is no gap in care services.
Are staff background check carried out?
Every staff member holds a current Federal criminal record check and undergo thorough suitability screening during recruitment.